Acupuncture for Infertility
Women suffering from infertility experience a sense of loss and are looking for many different treatment options such as fertility drugs, surgery, IVF, as well as alternative medicine. IVF/IUI treatments can be invasive and expansive. Holistic and alternative fertility treatments are becoming more popular because they are safer and more affordable.
Traditional Chinese medicine treatment of infertility may include regular acupuncture, cupping and herbal medicine. In fact, there are many published research articles showing the effectiveness of acupuncture for infertility. Acupuncture allows women to conceive on their own and increases their chances of a successful pregnancy through IVF.
Luna Body and Mind offers acupuncture for fertility in Santa Monica/Los Angeles for both men and women. Our treatments won't just significantly improve your chances of a successful pregnancy but will also help you relieve stress and strengthen your immune system in the process.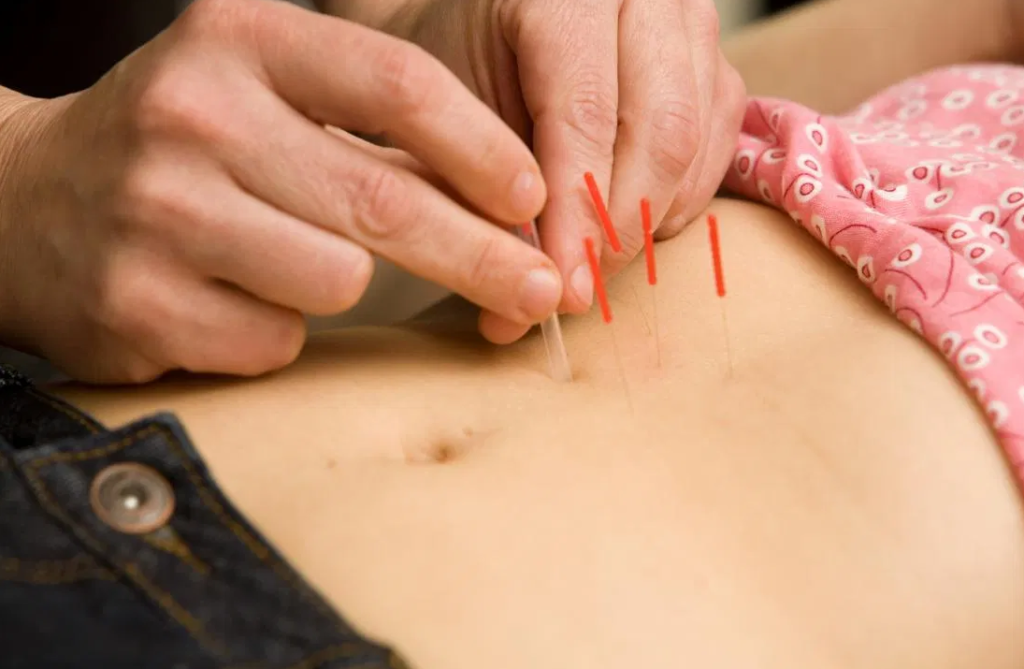 How Does Acupuncture Work for Infertility?
Acupuncture is an ancient Chinese technique that involves stimulating bioactive points on the body with thin solid needles to create a better flow of blood and Qi through the body
Acupuncture is effective for many conditions that affect fertility such as uterine fibroids, PCOS- Polycystic Ovarian Syndrome, endometriosis, and more. Studies also show that acupuncture for fertility can help eliminate some side effects related to fertility drugs.
A study conducted by the American Pregnancy Association proved that acupuncture can significantly enhance the blood flow to reproductive organs and improve follicular and ovarian function. When there is improved blood flow, there is better nourishment for the uterus and ovaries. This, in turn, makes these organs function more optimally and increases the chances that the uterine lining will support the implantation of a fertilized egg.
Additionally, brain chemistry plays an essential role in fertility. Some research on this matter has described the link between conception and brain hormones.
Acupuncture significantly increases endorphin production, a crucial chemical that regulates the menstrual cycle.
Acupuncture enhances hormone production by properly stimulating the pituitary gland and hypothalamus. These endocrine glands are responsible for the production and regulation of hormones involved in the conception and pregnancy, such as luteinizing hormone, follicle stimulating hormone, and thyroid hormone. Optimal levels of these hormones can naturally improve egg production and ensure regular ovulation.
When Is the Best Time to Start Acupuncture for Fertility?
Acupuncture generally allows most women to conceive naturally within three to six cycles. Of course, the number of cycles depends on many factors such as your age and pre-existing health conditions. If you are already in the process of preparing for an IVF or IUI, ideally you should begin acupuncture 3 months before the procedure to improve the chance of conception and a healthy pregnancy. Doing acupuncture concurrently with IVF/IUI will significantly improve your chances of success which has been shown by both research and our clinical experience. If you are looking for acupuncture for fertility in the Los Angeles/Santa Monica area, please schedule your free consultation with one of our practitioners!
What Can You Expect at Your First Acupuncture Visit?
Our practitioner will ask you questions about your lifestyle, stress levels, diet, sleep habits, and fertility concerns. We will base our diagnosis on the Chinese tongue and pulse diagnosis along with your signs and symptoms. Your acupuncture treatment can last from 30 minutes to 1 hour. Most of our patients find acupuncture treatments delightfully relaxing. All of our treatment rooms have a calming ambience and zen atmosphere. Our sessions are enhanced by gem (jade, amethyst, tourmaline) far infrared mats that will keep you warm and flood your body with anti-inflammatory and energizing negative ions.
Is Acupuncture Safe?
Acupuncture is a very safe modality when performed by qualified practitioners. It is always best to work with licensed acupuncturists with many years of experience. Some reproductive endocrinologists would refer their patients to us based on success with their previous patients. You can always get connected with our experienced practitioners to ensure that you will have the best chance of conceiving and to take care of your body and mind through your pregnancy as well.
Is fertility acupuncture for you?
You might think that acupuncture for fertility sounds too good to be true. However, it really is that simple! Multitude of research studies shows over and over that the success rate is quite impressive. Acupuncture works by enhancing the blood flow and regulating hormones. There are really no negative side effects of acupuncture. However, this may not work for everyone. There are some physical limitations (women past menopause, absence or complete blockage of reproductive organs, etc.) that can make it impossible for conception to occur, even with the help of acupuncture.  Some of these cases would require surgical intervention or an IVF. Acupuncture is recommended by many reproductive endocrinologists for women undergoing the IVF or other types of assisted reproductive technology because it increases the chances of success.
If you are suffering from infertility, consult your gynecologist or reproductive endocrinologist to find out if acupuncture can help. Luna Body and Mind is a well-known clinic for acupuncture for fertility in Los Angeles. Our practitioners offer a free consultation to help patients decide if acupuncture can help as well as to explain the treatment plans.

Lola has been my acupuncturist for over 10 years, and I can't say enough great things about her. She is passionate about her work, and an absolute best at what she does. Lola is knowledgeable, friendly, doesn't mind explaining her treatment plan in detail, and answer every question; her treatments are painless, and she truly cares about her patients.
L D.

Stop what your doing ! and make an appointment! This was my first acupuncture experience and I feel amazing. I've been working over time the past few weeks and I have trouble sleeping from the work and stress. My friend recommended me here, I did a quick stress relief acupuncture and a cupping session for my back. Did wonders ! Parking was easy , staff is really friendly and knowledgeable. The space is beautiful and clean I felt very relaxed. Would recommend.
Sonya C.

I was recommended to come here by a friend for my treatment today and oh was I surprised. I went for the ozone steam sauna and my expectations were exceeded. Not only did I sweat beyond all belief in the 30 minutes sitting and loosing around 600 calories, but Lola was one of the most pleasant people I've ever interacted with. The ear acupuncture was also great and now I'll be coming back here regularly. I feel like a million bucks tonight. Thanks Lola!
Adam B.

I purchased a 10 session acupuncture and ozone sauna package from Luna Body and Mind and absolutely loved it!! I was looking forward to each and every session! Acupuncture therapy restored my energy levels, balanced my chakras and boosted my happiness. Lola, the owner of this place, is absolutely amazing! Each session she greeted me with her beautiful warm smile and always made me feel at home. I felt completely relaxed and restored after each treatment with her. Lola is a very balanced and powerful healer. I completely trust her with my body and well-being. Highly recommend this place and already looking forward to coming back!!
Katusha S.

I'm not exaggerating when I say Luna has changed my body aching quarantine life.
My favorite business in Santa Monica, feel so blessed to have Lola work her acupuncture/ cupping magic!
The ozone sauna is a must too! I want to hug that thing! So detoxifying and stress relieving!
I always arrive at Luna excited and rushed from a busy day and leave a whole new person.
So relaxing & truly body healing, better then any massage can provide and with long term benefits.
There's something unique about Lola, her presence is calming & inviting.
I highly suggest to anyone who hasn't tried acupuncture to give it a shot. I'm a tiny lady, if my body can handle it, you can too haha it doesn't hurt, it is tension relieving.
I've noticed a huge improvement in my sleep, mood, energy, and anxiety since going here.
Love you all! Thank you for existing :)
Cat Zaimi, M A.

Out of all the acupuncturists I have seen, Lola is truly the best of the best. I have been living in LA for over 6 years and have seen it all and therefore normally don't write reviews but Lola is THAT good. When I am constantly seeing Lola for treatments, my health is the best it will ever be. I cannot recommend Luna, Body & Mind enough. It is honestly life changing!
Alexis L.

Lola was very knowledgeable about my Autoimmune problems and offered great recommendations (even my dr was very impressed). My teen daughter is a very big fan of gold seeds, they really help her distress from school. The ambiance is very calm and relaxing. Everyone was extremely knowledgeable. The space was clean and everything was sanitized.
Very COVID19 safe (big plus for me)
Alla D.

Lately I have been suffering from extreme back pain with consistently low HRV and sleep numbers. I visited Lola and felt absolutely at home in her gorgeous clinic near the Promenade in Santa Monica. I explained to Lola what was bothering me and she did an extensive acupuncture, cupping and electro stem treatment on me. Immediately, my back stopped seizing up and my pain decreased immensely. Not only did I feel better, but my HRV score went up 20 points after one day and I had 2:45 minutes of REM sleep when I was previously averaging 1:20 minutes. I plan to go back in two days to increase the benefits and healing, and I know that these treatments will get me back to feeling and sleeping great. Thank you Lola!
G. Luquet

Have been a patient of Lola's for quite some time now, and can say she's is a godsend. Not only she's very experienced but her bedside manners are the best. She shares her vast knowledge of Chinese medicine with so much grace, patiently explaining every step of the way so I can feel good about it at any given time. Best of all, I feel a real difference after the treatments. Pain level has significantly decreased, and I have been feeling more relaxed.
New Santa Monica place has incredibly healing vibes to it, designed with care and patients in mind. I appreciate the precautions 'Luna body and mind' team is taking to ensure a safe and sanitized experience. Looking forward to my weekly sessions!
Natalia Tibelius

I came in for an acupuncture treatment as well as moxa and ear seeding, and I have to say it was an AMAZING experience. Lola is an incredible acupuncturist and made me feel instantly better!!!! I will be coming back weekly for treatments and I HIGHLY recommend for anyone and everyone with anxiety, stress, insomnia etc. to come in and give it a try; best decision of my life! Not to mention the office is absolutely adorable. The vibes are very peaceful and relaxing. I can't wait for my next treatment !
Alexandra Peters

Treatments at Luna always makes me feel better, physically and psychologically.  Lola is so knowledgeable about how the body works and listens carefully to any issue which impacts my health and well being.
Mari Koerner

I had the pleasure of meeting with Lola and using the ozone sauna today, and it was a great relief and detox. She was very knowledgeable, very responsive, and I had a great conversation with her. I'm definitely considering all of her other services as well. I highly recommend to others!
Chris Brandlin

Coming to Luna Body and Mind has had a huge, positive impact on my health and energy levels. Lola is super knowledgeable about alternative & integrative health protocols and has a kind, warm, welcoming energy. Alexandra & Alex are nice, responsive with scheduling and taking care of me during ozone treatments. The ozone far infrared sauna has made all the difference in helping me get rid of brain fog and burn out. Every time I walk out of this place I feel like a million dollars.
Thank you, Luna Body & Mind !!
Maria D.

Lola at Luna is an absolute artist – a magic worker. She is compassionate, humble, funny, empathetic, and knows how to make you feel at ease immediately. Somehow the day just turns around the second I'm even driving in for a treatment and I'm in a state of bliss for days afterward. The space is beautiful, the acupuncture beds and heat lamps feel like warm hugs, and the ozone sauna is the key to detoxifying your body and life! Could not recommend Luna B&A more!
Michele Nilsen

I've had several sessions at Luna and I feel so good! Truly a lovely location and office! Feels incredibly relaxing to walk into such a beautiful space!
On top of that! The services they offer are unmatched in my experience, they tailor every session to your needs and can give acupuncture, cupping, or the ozone treatment! Walk out the door feeling amazing every time!
Highly suggest booking a free consultation or your first session ASAP!
Erik Lundstrom