We Reunite You With Your Sleep
"Sleep is your life-support system and Mother Nature's best effort yet at immortality"
Dr. Matt Walker, Ph.D., author of "Why We Sleep", professor of psychiatry at Harvard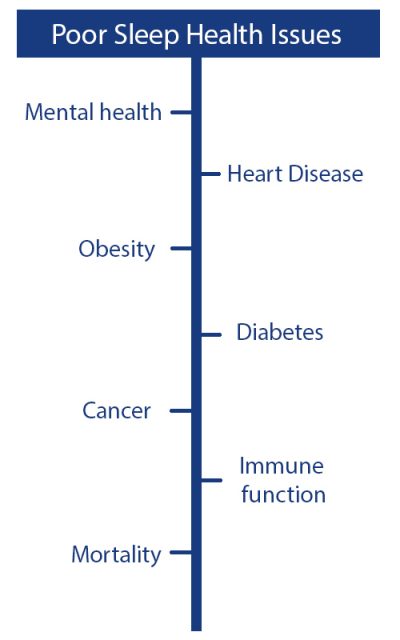 Sleep deprivation is no joke. If there is one thing that can ruin your health, your relationships and your career, it is the inadequate amount of time you spend in REM and deep sleep every night. There are hidden factors in sleep that can make or break your day, your month, or even your whole life. Do you walk around tired and anxious, catching every cold? Are your productivity and focus gone? Is chronic pain draining you? Poor sleep is most likely the culprit.
According to the National Sleep Foundation, up to 40% of American adults have intermittent insomnia and up to 15% of us have chronic insomnia.
In his famous Google talk titled "The shorter your sleep, the shorter your life", Dr. Matt Walker says "There is simply no aspect of your wellness that can retreat at sign of sleep deprivation and get away unscathed. Sleep loss will leak into every nook and cranny of your physiology… It is almost like a broken water pipe in your house."
Here are the effects of sleep deprivation:
If you sleep for 4 hours just for one night, the activity of your natural killer cells (the soldiers of the immune system that destroy cancer, virus, and bacteria cells) declines by 70%! Can you imagine the state of your immune system if this happens night after night, for weeks,months, or years?

Men who sleep 4-5 hours per night have significantly smaller testicles and the testosterone levels of someone 10 years older, compared to those men who sleep 7-8 hours.

Sleep deprived humans can't effectively learn new information. One study showed that, compared to those who slept 8 hours, the ability to store new memories declined by 40% in a sleep-deprived group. When we go into deep sleep, our brains produce powerful slow brain waves that shuffle new information into long-term memory storage. A lack of sleep causes cognitive decline and increases the risk of Alzheimer's disease.

A single night of disrupted sleep can put you in a pre-diabetic state.

When we lose one hour of sleep in the spring due to daylight savings, there is a 24% increase in heart attacks. When we gain an hour, these rates drop by 21%. If there was a drug that could do that, the pharma industry would be all over it!

Sleep loss tampers with your DNA, suppressing the genes that upregulate your immune system and activating those that promote tumors and inflammation.

Ignoring your natural circadian rhythm is dangerous. The World Health Organization classifies shift work (i.e. sleeping during the day or irregularly) as a possible carcinogen!
The bottom line is depressing: Poor sleep can predict an overall increase in mortality from all causes, and affects every aspect of your health negatively. Great sleep is a biological necessity, not a luxury or a sign of laziness.
At Luna Body + Mind, we are dedicated to optimizing your sleep so that you can be fully present in your life.
Conditions associated with insomnia